I believe the first step toward shoring up our economy is to make the President's tax cuts permanent. They did exactly what they were designed to do...jump-start our economy. They should remain in place to serve as a further catalyst for economic growth.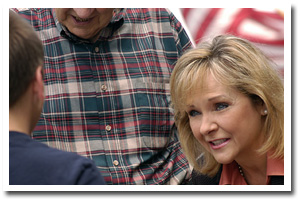 You know how to spend your money better than the federal government. That's why I supported the 2008 economic growth package that put a tax rebate in the hands of over 130 million working Americans, seniors and disabled veterans. Returning this tax money to the American people will provide immediate relief to struggling families and give our economy a much needed shot in the arm. The growth package will also help small businesses with tax incentives for investment and job growth.

Besides supporting the growth package, I have and will continue to be an outspoken opponent of raising taxes. While the majority party has advocated for the reinstatement of the death tax and the marriage penalty, cuts in the child tax credit, and a dramatic increase in capital gains taxes, I have consistently opposed such measures. Raising taxes in a time of economic uncertainty would hurt American families and provide a devastating blow to our economic security. That's why I support making the 2001 and 2003 tax cuts permanent.